(scroll down for German version)
In Yekaterinburg, I thought I'd finally die of the heat. Stepping from the nicely air-conditioned train that I'd spent the previous 30 hours on, it felt like walking into a vapour-bath. Humid, muggy, 36 degrees Celcius. Thankfully the metro here is air-conditioned as well, and I found my hotel quite easily. It is shaped in the form of hammer and sickle, and was originally planned as the local office of the NKVD, the predecessor of the KGB, before turned into a hotel in the 1960s.
The town itself is surprisingly accessible for pedestrians, especially compared with massive Moscow. Only four lanes on the major roads, and for a regional capital of 1.3 million the city centre is quite small. You might even call it flaneur-friendly. So, after the relentless heat finally gave way to a more Irish-like climate yesterday (22 degrees Celsius, light drizzle), I decided to follow the local version of the White Rabbit – the Red Line.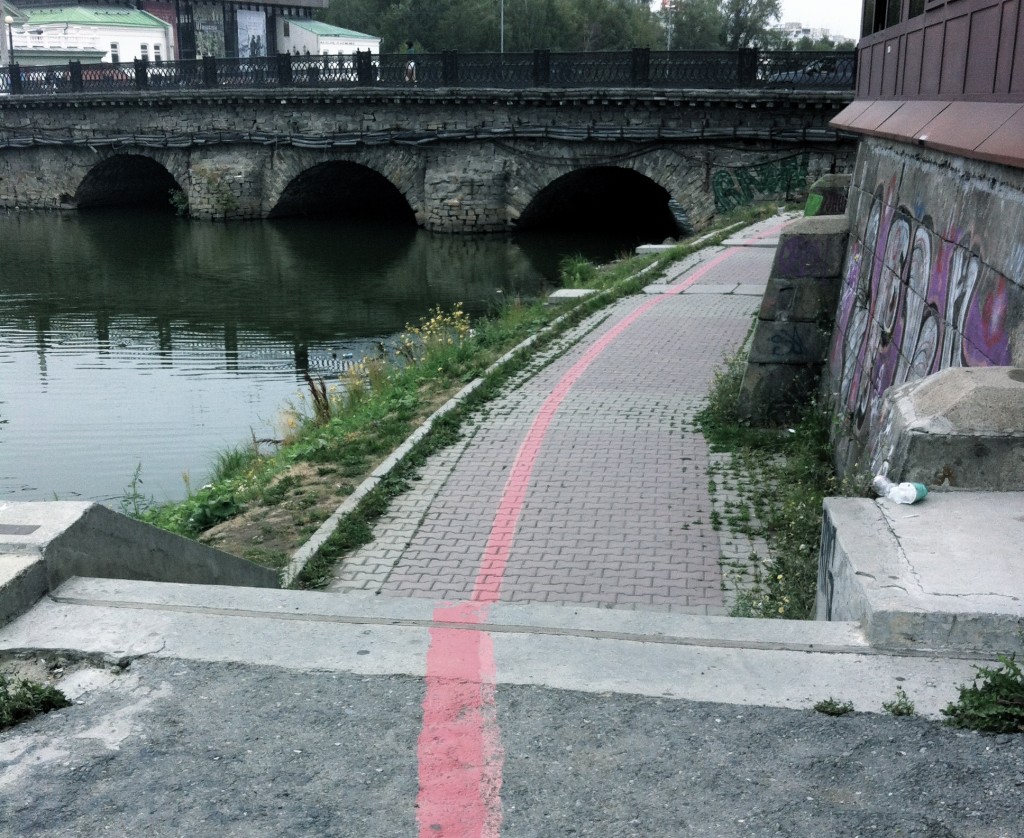 The Red Line started in 2011 as a blog by Dmitry Kalaev. Internet users voted for the best sites in the center of Yekaterinburg and chose 35 historic objects including the Church on the Blood (erected as a monument to the Tsar and his family, murdered on that spot in 1917) , the Opera Theatre, the Beatles monument (yes, they have a Beatles monument here), the local Literary Quarter with wooden houses from the 1800s etc. It's 6.5 kilometers long and offers a pleasant stroll along most sites of touristic interest in Yekaterinburg, and also passes through shopping areas in case you get hungry on the way or feel the urge to splurge.
Today I'm meeting local blogger and tour guide Luba Suslyakowa, who's helping me get to Nizhni Tagil, where my grandmother arrived in 1945; and tomorrow I'm meeting with the guys behind local webzine Tesnota. Even though they write in Russian, you should definitively check out their Tumblr.
—
In Jekaterinburg war ich kurz davor, an Hitze zu sterben. Nach 30 Stunden im vollklimatisierten Zug fühlte sich der Schritt auf den Bahnsteig an wie ein Saunagang. Drückend heiss, schwül ohne Ende, der Schweiss lief sofort in Strömen. Gottseidank ist die hiesige Metro klimatisiert und mein Hotel habe ich auch schnell gefunden. Das Hotel ist geformt wie Hammer & Sichel und war ursprünglich als Büro für den NKWD, den Vorgänger des KGB, gedacht und wurde in den Sechzigern zum Hotel umgebaut.
Im Vergleich zum riesigen Moskau ist Jekaterinburg relativ fussgängerfreundlich, trotz seiner 1,3 Millionen Einwohner ist das Stadtzentrum relativ klein. Nachdem Gestern eher irische Wetterverhältnisse vorherrschten (22 Grad und Regen), habe ich mich aufgemacht der Roten Linie zu folgen, einem aufgemalten Leitfaden durch die Stadt. Diese Linie wurde vom lokalen Blogger Dmitry Kalaev ins Leben gerufen, und die Bewohner von Jekaterinburg konnten online abstimmen, an welchen Sehenwürdigkeiten sie vorbei führen soll. Dabei herausgekommen sind 35 historische Objekte, wie z. B. die Kathedrale auf dem Blut (errichtet an der Stelle an der die Zarenfamilie 1917 ermordet wurde), das Beatles Denkmal (ja, es gibt ein Beatles-Denkmal in Jekaterinburg) und das QWERTY Denkmal, eine riesige Computertastatur am Ufer der Isset. Freundlicherweise führt die Linie auch durch die hiesigen Einkaufzonen, falls man Hunger haben sollte oder den Drang zum Shoppen verspürt.
Heute treffe ich mich mit der Bloggerin und Fremdenführerin Luba Suslyakowa, die mir helfen wird nach Nishni Tagil zu kommen, der Stadt in der meine Grossmutter 1945 angekommen ist. Morgen treffe ich mich dann mit den Machern des Tesnota-Webzines. Und auch wenn sie auf Russisch schreiben – ihr Tumblr ist einen Besuch wert.