(scroll down for German version)
In Olsztyn, four days into my trip, I had my first doubts. My non-existent Polish will make it hard to get in touch with people, I did not research properly and have not prepared enough interviews, and what good is my trip to my dead grandmother anyway?
Olsztyn is the capital of the Warmian-Masurian Voivodeship, or Warmia-Masuria Province in northeastern Poland. At the time of my grandmother the name of the town was Allenstein, and while she comes from a small village a few kilometres to the East, she would have come here quite often, on market days or on shopping trips (probably with a horse-drawn carriage). She would however recognise the city only marginally today: the old town beneath the castle has been rebuilt, like so many other Polish inner cities, and I'm sure she would recognise some of the buildings today;  but outside the former city walls and away from the tourists that congregate here, this is a working town and home to 200,000 people, four times more than when Cilly was walking around.
The inhabitants of the region also suffered their own flight and expulsion, as many were transferred here between 1944 and 1959 from the former Polish eastern territories, as a direct result of the Yalta conference and subsequent treaties between Stalin and Poland.  I learned a lot about this both in a exhibition at the local museum and in a heated but friendly discussion with a young Pole named Rafael the night before in a local bar.  He congratulated me to my journey, but was convinced I would not learn much here – most Germans have left, and the Poles transferred here had no interest in the German history of the region. I promised to prove him wrong and buy him a few beers the next time we meet. Whatever the outcome of my travels around here will be.
I spent the next day walking around Olsztyn, trying to make sense of my trip. At one point I stopped, sat down at a small lake and read for a few minutes. And realised that my trip has not been as bad as I thought before. This is as much about the trip and the people as it is about research: I'm the first member of my family who has ever come here since my grandmother left; and so far I met a Polish bum who said of himself 'Je suis un clochard', a French hippie who comes to Olsztyn for ten years to teach French, and an angry young Pole who knows more about history than most of my friends. I think I'll carry on.
—
In Olsztyn, nach vier Tagen, hatte ich meine ersten Zweifel an meiner Reise. Mein nicht vorhandenes Polnisch wird es schwierig machen mit den Leuten in Kontakt zu kommen, ich habe nicht sorgfältig genug geplant und nicht genug Interviews vorbereitet, und was nützt die Reise meiner Grossmutter, jetzt wo sie schon tot ist?
Olsztyn, oder Allenstein, ist die Haputstadt der Woiwodschaft Ermland-Masuren,einer der 16 Woiwodschaften von Polen, und umfasst den nordöstlichen Teil Polens, historisch gesehen den südlichen Teil des ehemaligen Ostpreußen. Meine Grossmutter kommt aus dem Kreis Allenstein, genauer gesagt einem kleinen Dorf weiter östlich, wird aber oft in Allenstein gewesen sein: an Marktagen, oder zum Grosseinkauf mit der Kutsche. Von Olsztyn heute würde sie nur wenig wieder erkennen. Die Altstadt und das Schloss wurden, wie so viele andere Innenstädte in Polen, nach dem 2. Weltkrieg wieder originalgetreu aufgebaut, und Cilly würde sicherlich das eine oder andere Gebäude wieder erkennen. Aber ausserhalb der ehemaligen Stadtmauer und der Touristen darin ist Olsztyn ein quirlige und emsige Arbeiterstadt mit 200.000 Einwohner, viermal soviel wie zu Cilly's Zeiten.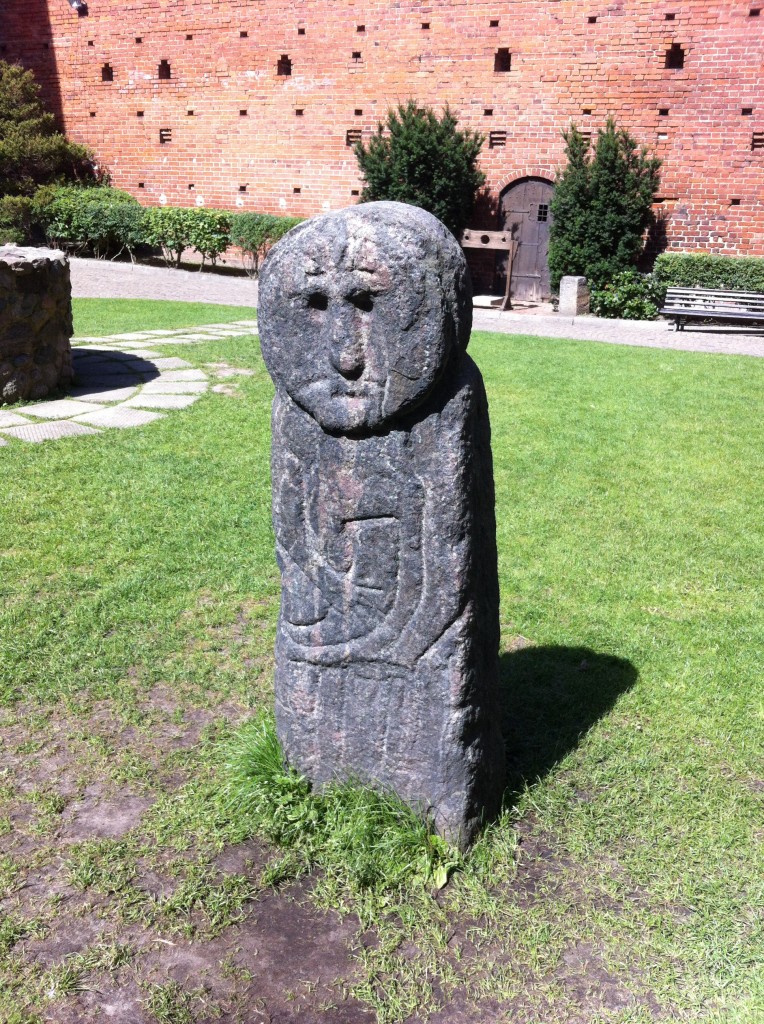 Baba Prusski im Schlosshof in Olsztyn
Die Bewohner der Region haben ebenfalls Flucht und Vertreibung hinter sich, genauer gesagt wurden Sie zwischen 1944 – 1959 aus den Teilen Polens hierhin deportiert, die laut Yalta-Konferenz an die UDSSR fielen. Genau darüber habe ich mich auch Abends in einer der vielen gemütlichen Kneipen von Olsztyn angeregt mit einem jungen Polen namens Rafael unterhalten. Er mag die Idee meiner Reise, aber glaubte nicht dass ich viel herausfinden würde – die meisten Deutschen haben die Region verlassen, und die Polen hier hätten kein Interesse an der deutschen Geschichte. Ich versprach ihm, ihn eines Besseren zu belehren und wir wetteten um ein paar Bier. Egal wie das Ergebnis meiner Recherche also aussieht, werde ich wohl noch ein paar polnische Bier trinken müssen…
Am nächsten Tag bin ich dann weiter durch Olsztyn gelaufen mit dem Vorsatz, mehr Struktur in meine Recherche zu bringen. Im Endeffekt habe ich mich dann an einen kleinen See in die Sonne gesetzt und gelesen, und mir wurde bewusst das ich wie immer versuche zu viel Ergebnis zu erzwingen. Die Reise ist genauso wichtig wie die Recherche über Cilly, und ich bin verdamt nochmal der Erste aus meiner Familie, der es nach ihrem unfreiwilligen Abschied 1945 bis hierhin geschafft hat. Und die Menschen sind eh am wichtigsten: bis jetzt habe ich einen polnischen Penner getroffen, der über sich selber sagte "Je suis un clochard", einen französischen Hippie der seit zehn Jahren nach Olsztyn kommt um hier Französisch zu lehren, und einen wütenden jungen Polen der mehr über Geschichte weiss als alle meine Freunde. Ich mache also weiter.