(scroll down for German version)
In Olsztyn, I'm sweating. It's like the south of France minus the ocean, and every little lake I drove by the last days looked very very enticing. But I had things to do: I met cultural association Borussia, founded by Polish historian Robert Traba, which organises cultural events and promotes cross-border relations between Germany and Poland (interview coming soon). Then I spent a morning with the lovely elderly ladies of the AGDM, the German minority association here in Warmia-Masury, who organised an interview with one of the survivors of the Soviet labour camps still living here, Frau Moritz. As I found out, Frau Moritz actually spent time in the same camp as my grandmother – so I was quite eager to talk to her (interview extracts coming even sooner). Also did I meet the extremely helpful amateur historian Anna Krawzcynska, who works for the local tourist office and who gave me a personal tour of the old town and answered most of my questions regarding the recent history of Olsztyn.
I also got a rental car and managed to visit the small village where my grandmother was born, but this felt more like an anticlimax – I didn't know the exact location of the former farm of my great-grandparents, and Łęgajny/Lengainen turned out to be small village where the last traces of agrarian lifestyle are slowly taken over by the encroaching suburbs of Olsztyn. I did however manage to find the town lake, a place I know my grandmother went to bathing with her siblings.
And now I'm going to visit the Wolf's Lair. Maybe there's a lake on the way.
—
In Olsztyn schwitze ich. Es fühlt sich an wie in Südfrankreich – nur leider ohne das Meer um die Ecke. Jeder noch so kleine See, an dem ich tagsüber vorbei gefahren bin, sah verdammt verlockend aus. Aber es gab zu tun: ich traf den vom polnischen Historiker Robert Traba gegründeten Kulturverein Borussia, der seit Jahren grenzüberschreitende Kulturaktivitäten organisiert und durchführt (Interview folgt). Danach habe ich einen Morgen mit den bezaubernden älteren Damen vom AGDM verbracht, der Allensteiner Gesellschaft Deutscher Minderheiten. Diese Damen haben mir auch ein Interview mit einer der wenigen hier in der Gegend noch ansässigen Überlebenden der sowjetischen Arbeitslager vermittelt, einer Frau Moritz. Ich habe auch erfahren dass Frau Moritz einige Zeit in demselben Lager wie meine Grossmutter verbracht hat – dementsprechend wichtig war mir das Gespräch mit ihr (Interview – in Auszügen – folgt noch früher). Und dann gab es noch eine persönliche Stadtführung von der Hobby-Historikerin Anna Krawcszynska vom lokalen Tourismusverband, die mir bereitwillig alle Fragen zur jüngeren Geschichte von Olsztyn beantwortete.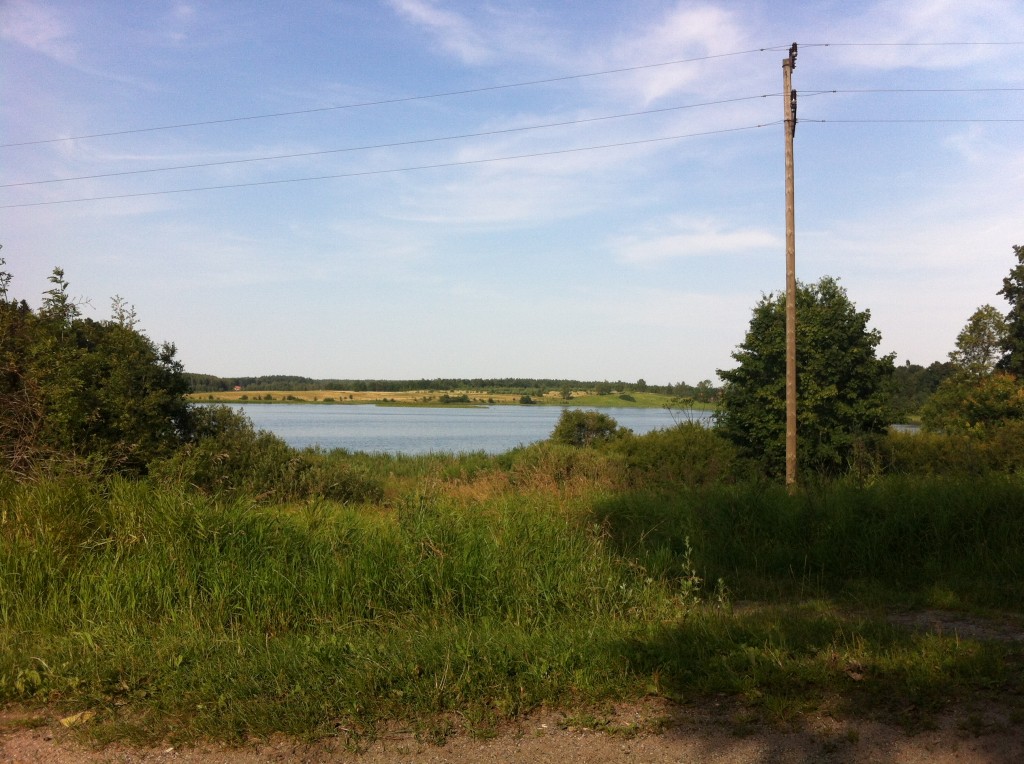 Ich habe es auch mit dem Mietwagen zum Geburtsort meiner Grossmutter geschafft. Der Besuch in Łęgajny/Lengainen hat sich dann aber eher als Antiklimax herausgestellt – ich kannte den genauen Standort des Gutshofes meiner Urgrosseltern nicht, und der Ort selbst ist ein kleines Dorf, in dem die letzten Überbleibsel eines landwirtschaftlichen Lebens von den immer näher rückenden Neubauten der Olsztyner Vorstadt verdrängt werden. Zumindest den örtlichen See habe ich ausfindig gemacht, an welchem meine Grossmutter mit ihren Geschwistern schwimmen war.
Und jetzt fahre ich zur Wolfsschanze. Vielleicht ist da ja ein See auf dem Weg.